Safe Deposit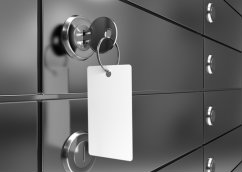 Protect your important papers and the items you treasure. A safe deposit box at Providence Bank gives you a place to store your valuables, important documents, or treasured items.
From passports and wills to fine jewelry and family heirlooms, you can rest assured they will be protected and secure. And you can save money by having the annual fee automatically deducted from your Providence Bank checking or savings account.
Summary

Store your important papers and valuables
A variety of box sizes available
Safe and secure
$4 discount with autopay
$5 discount for Elite Checking customers

Box Size Annual Rent

3" x 5" x 24" $25

5" x 5" x 24" $35

3" x 10" x 24" $40

5" x 10" x 24" $60

10" x 10" x 24" $85

Check a Banking Center nearest you for box size availability. 3" x 5" x 24" and 5" x 5" x 24" sizes are only available in Missouri.

Contents of safe Deposit Boxes are not insured or guaranteed by the bank, the FDIC, or by any other government agency.