Mobile Banking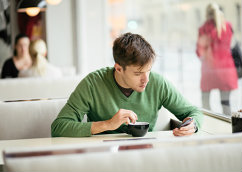 Whether you're shopping at the mall, picking up your kids from school, or out of town, you can stay connected to your money! Our free mobile banking service lets you access your bank accounts 24/7, with any smart phone.
It's a secure and convenient way to bank when you're on the go. Sign up today! Just go to the Apple Store or Google Play. Search for Providence Bank or MyPBmobile. Download the app. Enter your Online Banking User ID and follow the prompts. It's that simple!
Summary

Access your accounts 24/7
View balances
See your latest transactions
Track payments
Transfer funds
Pay your bills
Find nearby Providence Bank locations and ATMs
Search for Providence Bank or MyPBmobile

Your cell phone provider may charge additional fees for web access or text messages. You must first be enrolled in Online Banking or Mobile Banking and download the mobile app for Mobile Banking.

Mobile Deposit

With mobile deposit, you can deposit checks on your schedule. No need to make a trip to the bank — you can make deposits quickly and safely right from our mobile banking app. It's as easy as taking a picture of your check with your phone! Just sign, snap, and submit! Make deposits 24 hours a day, even on weekends and holidays, for only $.98 per deposit. You'll save time and get your money to the bank faster!

Make deposits anytime, anywhere
Save valuable time
Avoid extra trips to the bank
Get faster access to your money
Works with any smartphone

Mobile Deposit - Deposit Instructions

Mobile Deposit is for personal accounts only. You must first enroll in Online Banking and Mobile Banking and download the mobile app for Mobile Banking. A fee of $.98 per deposit will be charged for this service. Deposits are subject to verification and not available for immediate withdrawal. Restrictions may apply. See bank for information on funds availability, deposit limits, proper disposal of checks, and to see the full terms and conditions. Wireless carrier fees may apply. Securely store the original check for 7 business days after transmission. Verity your check has been credited to your account. After 7 business days, destroy the original check by making it "VOID" and shredding it.