Debit Cards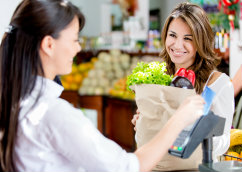 Imagine getting through life without ever having to dig for change or write a check. Use your free Visa® debit card for purchases around the globe. Debit cards are safer than carrying cash and more readily accepted than checks, and you can use the very same card to make ATM withdrawals. One tiny piece of plastic; a whole lot of versatility.
Summary

Accepted anywhere Visa® is accepted, worldwide
Safer than carrying cash
More convenient and safer than checks
Eliminate cost of purchasing checks
24/7 access to funds via ATMs




Attention Debit Card Customers!

If you are traveling outside the states of Missouri, Illinois and Texas, please use your PIN number in order to avoid transaction authorization issues.




If you plan to travel internationally or are attempting to perform an online transaction with a merchant outside of the United States, please contact your local banking center.




To report a lost or stolen debit card, please call 1.888.297.3416.

Debit Card Fraud Notifications

Automatic Email Notification

When our system detects potential fraud on your debit card(s), you will receive an automatic email notification from us from fraudCtr1173@myprovidencebank.com with the option to reply "fraud" or reply "no fraud" using the hyperlinks within the email.

Automatic Text Notification

One minute after the email, you will receive a text alert from 328-74 between 7am and 9pm (CST) which also has the "fraud" or "no fraud" reply option.




Automatic Phone Notification

If no response is received from you within 5 minutes after the text alert, you will receive an automatic phone call between 8am – 9pm (CST), asking you to confirm or deny fraud.

Blocked Card

If we are unable to reach you, it is likely that your card will be blocked to prevent the potential for further fraud. It is very important for you to respond to the text or email as soon as possible!

Please Note: You will never be asked for your PIN or Account number.

Lost or Stolen Debit Cards

Lost or stolen debit cards should be reported immediately by calling 866.546.8273 during non-Bank hours or by calling Providence Bank during normal bank hours at 888.206.2730.