Health Savings Account (HSA)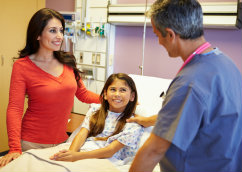 Now you can ensure your physical and financial health while reducing your tax payments! A Health Savings Account lets you contribute tax-free funds straight from your paycheck, which you can use for qualified medical expenses.
Because you own the HSA, your funds roll over year-to-year, and the account goes with you even if you change jobs. Prepare to cover the growing cost of health care by opening this important account today.
Summary

Prepare for your family's medical expenses
No setup fees
Contributions are tax-free*
Interest grows tax-free
Withdrawals are tax-free when used for qualified medical expenses**
Funds roll over year-to-year automatically
Easy withdrawal access by check, debit, online, or teller
Contribution limits set by the IRS
Free online banking
Free mobile banking
Free monthly eStatements with check images
Free debit card
Free telephone banking
$50 minimum opening deposit
Low Monthly Fee***

*If contributions are made after income was taxed, the amount deposited is tax deductible.

**Withdrawals for non-qualified medical expenses are subject to income tax and a 20% IRS penalty. The 20% IRS penalty is waived for persons 65 and over or who have become disabled.

***$1.95 monthly fee with eStatements. Additional $2 monthly fee for a paper statement. Monthly fee is waived when you maintain a minimum daily balance of $3,000.